Empack 2020
Buhrs, a supplier of Packaging Technology and Blackware, specialist in the development of tracking solutions, jointly participate in Empack 2020. This packaging trade fair has grown to be the largest in the Benelux and will take place on September 15, 16 & 17, 2020 in Jaarbeurs Utrecht.
Buhrs exhibitor Drupa 2021
Buhrs is a permanent exhibitor – since 1962 – at Drupa. Also we will attend on this event which takes place 20 to 30, April 2021, together with Blackware our partner in tracking solutions. We will combine the Drupa show with an Open House event in Zaandam in The Netherlands. The distance between Zaandam and Düsseldorf is only 2,5 hours by car and for visitors from outside Europe a good opportunity to start or end their trip to Drupa 2021 at Amsterdam Schiphol Airport, only 20 kilometres from our Open House away.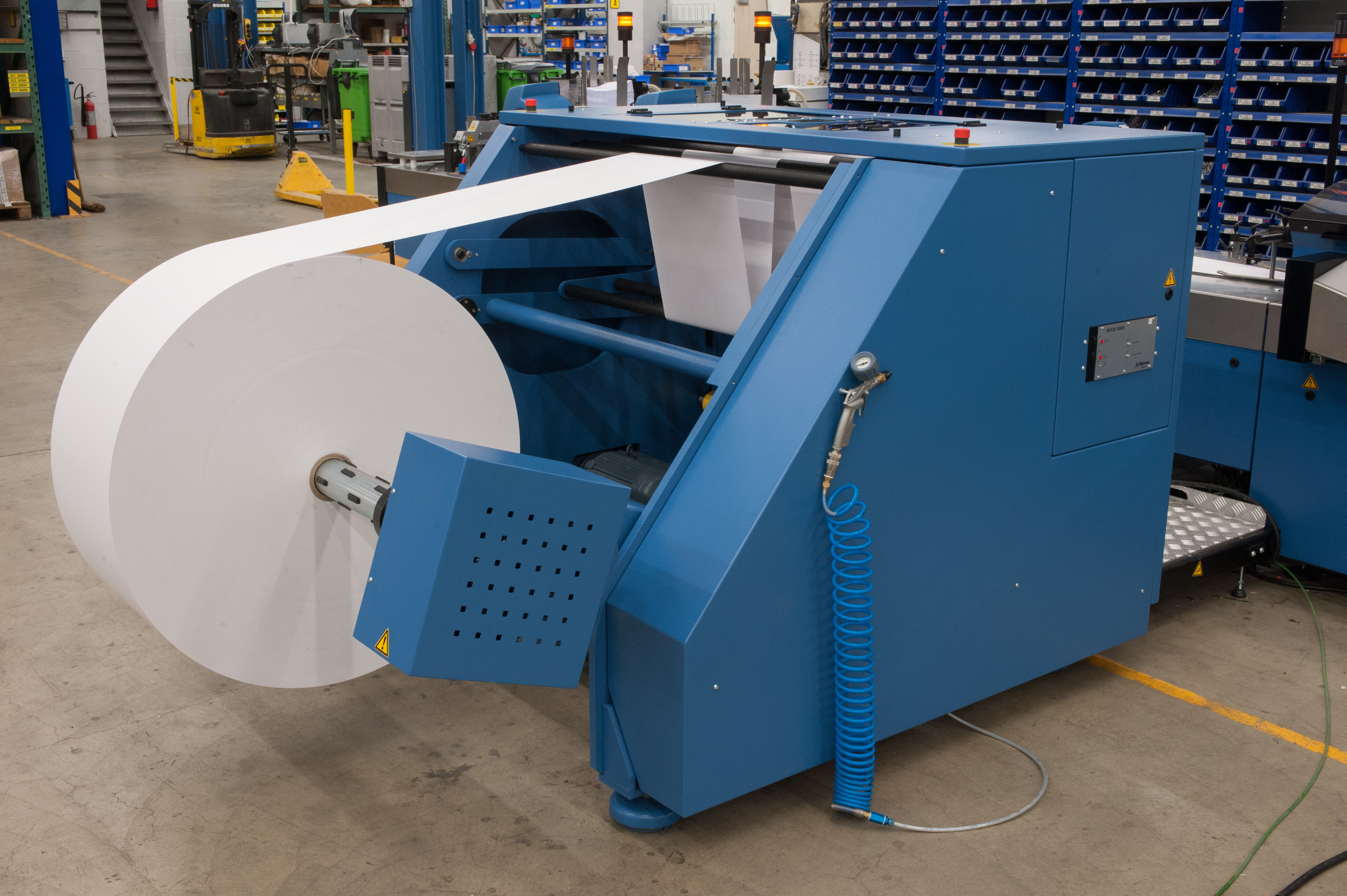 Buhrs 5000 XL unwinder
From now on all Buhrs Paper wrappers can be equipped with the Buhrs5000 XL unwinder. The need for more paper wrapping has made us decide to make the Buhrs5000 unwinder available on all our paper wrapping systems.
The Buhrs5000 XL unwinder has the following advantages:
Reel diameter upto 50 inch
Ability to run Paper and Poly
Integrated perforation assembly for easy tear open perforation.
The Buhrs5000 XL unwinder also respects the latest safety and ergonomic market requirements
New Website
A lot is happening at Buhrs. The activities are becoming more extensive. The knowledge of packaging - gained in Print & Mail - is applied to Food & Beverage and Pharma & Medical packaging solutions. Last but not least, a new website with the most recent information about Buhrs! The new website consists of seperate menus, all dedicated to their own business area. Special thanks to Danto and PZC for the design and content.
New standard in folder country
In the Noordhollands Dagblad an article was published that answers the question for personalised packaged brochures. More than 100,000 households that compile their own brochure package via Kiesjefolder.nl receive their brochures on a weekly basis. The packages are tailor-made at Nic Oud on a specially equipped Buhrs production line for poly packaging.
Buhrs on Dutch television
Buhrs was featured on the Dutch television for a business broadcast RTL-Z named: 'How it's done'. This programme gives a good picture of the Buhrs facilities and shows how Buhrs together with customers develops and produces packaging solutions.
Good times are back
Good times are back at Buhrs. "We have an order backlog till mid-2020.", says managing director Dick Verheij. The activities of Roboxis Packaging, the producer of Palsys palletisers, has been relocated to Zaandam. These systems have been further developed and enhanced with our packaging experience. This has resulted in the first system in production at a large brewery in the Netherlands.
Back at Buhrs
To structurally manage the growth, the Buhrs team has been strengthened with  CFO Willem Jan Ruizendaal and Jan Clement, responsible for Sales and Marketing. This means that Jan Clement is back at Buhrs after a decade of working for an international company and manufacturer of Pharma & Medical packaging.
Automatic depalletizing
Buhrs DPS is a revolutionary system for the automatic depalletizing of pallets with flat packaging. The starting points for the development of this new system were high net output, maximum automation, reduction of human touch points and the efficient separation of the various discharge flows to minimize the transport movements around the machine.