Well-filled order book
Buhrs is doing well. "Our order book is well filled up to the beginning of 2022," says managing director Dick Verheij. "The assignments for the coming months are very diverse. Varying from the conversion of 15 foil packaging systems to banderole packaging to the development of a completely new system for packaging internet orders. This brand new Buhrs e-Wrap system will be ready at the end of this year. In addition, this autumn we will be supplying various paper packaging systems in the Netherlands and two large fully automated lines for selective packaging of direct mail, magazines and door-to-door advertising to Japanese customers."
New Variastream for Wolanski
Buhrs has installed a new Variastream VS4 at Wolanski in Bonn, Germany. The labelapplicator replaces the system that has been used to its full satisfaction for decades. The new generation VS4 offers more functionalities and, moreover, the operators know the labeling system through and through. That did not make it difficult for Wolanski to choose Buhrs' Variastream again. The VS4 processes up to 30,000 mailing labels per hour.
From Foil to Paper Wrap
The newspaper Le Courrier de l'Ouest (Ouest France Group) is ecologically responsibility wrapped in a paper wrap. Entirely according to the latest environmental requirements that apply in France. Especially for this purpose, the module for packaging in foil has been converted to a paper wrapping application on the Buhrs packaging system.
Food & Beverage
Buhrs has taken over and integrated the activities of Roboxis Packaging, the producer of Palsys palletisers. These systems have been further developed and enhanced with our packaging experience. This means that we are manufacturers of (de)palletisers and transport systems for the international Food and Beverage market. These products distinguish themselves by their simplicity, modular design, reliability and practical implementation.
Technical Services
Technical Service is a Buhrs business that focusses on maintenance, production support, modifications, training and spare parts supply of post-press (bindery) equipment, mailing (wrapping and inserting) and packaging equipment. Buhrs Technical Service offer its customers worldwide a comprehensive package of services as well as customized solutions.
Newspapers in paper wraps
Ouest-France, the largest regional newspaper publisher in France, has purchased two new packaging lines from Buhrs in Zaandam. These Buhrs 3000 systems are used for packaging newspapers in paper wraps. "With this investment, Ouest-France is the first newspaper company to package its products in paper and not foil for shipping," says Buhrs managing director Dick Verheij. "Ouest-France is one of the first companies in France to follow this new environmental measure and thus send a signal to other shippers."
Koos Buis 40 years of Mister Buhrs
Koos Buis joined Buhrs Zaandam on November 1, 1980 and still enjoys working there 40 years later. He learned a lot and developed as a very loyal and customer-oriented Manager Sales Support. Congratulations to Koos on this special work anniversary and of course: "A few more beautiful years in good health at Buhrs!"
Back at Buhrs
Paul Furer is back at Buhrs to join the management team as Director Operations. At the start of his technical career, he joined Buhrs as a software engineer. During this period he developed himself into the position of Manager Controls. After more than 16 years of Buhrs, he continued his career at various comparable companies in other industries. Now he is back and responsible for operations, software development and – mechanical and electrical – engineering.
Five new Buhrs 6000 systems
BD myShopi, market leader in door-to-door communication in Belgium, recently moved into a new warehouse in Bornem. In this new central logistics hub of 16,000 square meters Buhrs has installed five new packaging lines. Every week these Buhrs 6000 systems pack advertising brochures and leaflets, which are distributed over 4.5 million mailboxes throughout Belgium. The new Buhrs machines can wrap the retail brochures in both paper or foil. 'Here in Belgium we see a clear trend towards the preference for packaging in paper wrap', said CEO Raf Lambrix.
GT proof packaging
GT (Greta Thunberg) proof packaging is new standard in France. It stands for packaging in TUV certified Biowrap plastic or in paper. France, being the biggest market in Europe for publication wrapping, has moved away from using normal PE or PP. Publishers are choosing between Biowrap or paper, also newspapers are going that direction. We have to realize that this is a big commitment from their side in direction of a more sustainable world, both wrapping materials are far more expensive than standard PE, depending on size, print and thickness this varies between 3 to 5 times the original cost.

More information: Dick Verheij | +31 6 39 77 56 53
Cost savings & steady growth
Symeta – a Belgian provider of solutions in effective business communication – switched a few year ago their production for Colruyt to a targeted 4-page booklet for each individual customer. It brought the supermarket cost savings and a steady growth in sales by providing consumers a shopping list based on their shopping behaviour via their loyalty card. In this prestigious project Buhrs installed three Buhrs 3000 paperwrapping lines, equipped with 10 selective feeders each and controlled by the Buhrs Data Controller (BDC).
New standard in folder country
In the Noordhollands Dagblad an article was published that answers the question for personalised packaged brochures. More than 100,000 households that compile their own brochure package via Kiesjefolder.nl receive their brochures on a weekly basis. The packages are tailor-made at Nic Oud on a specially equipped Buhrs production line for poly packaging.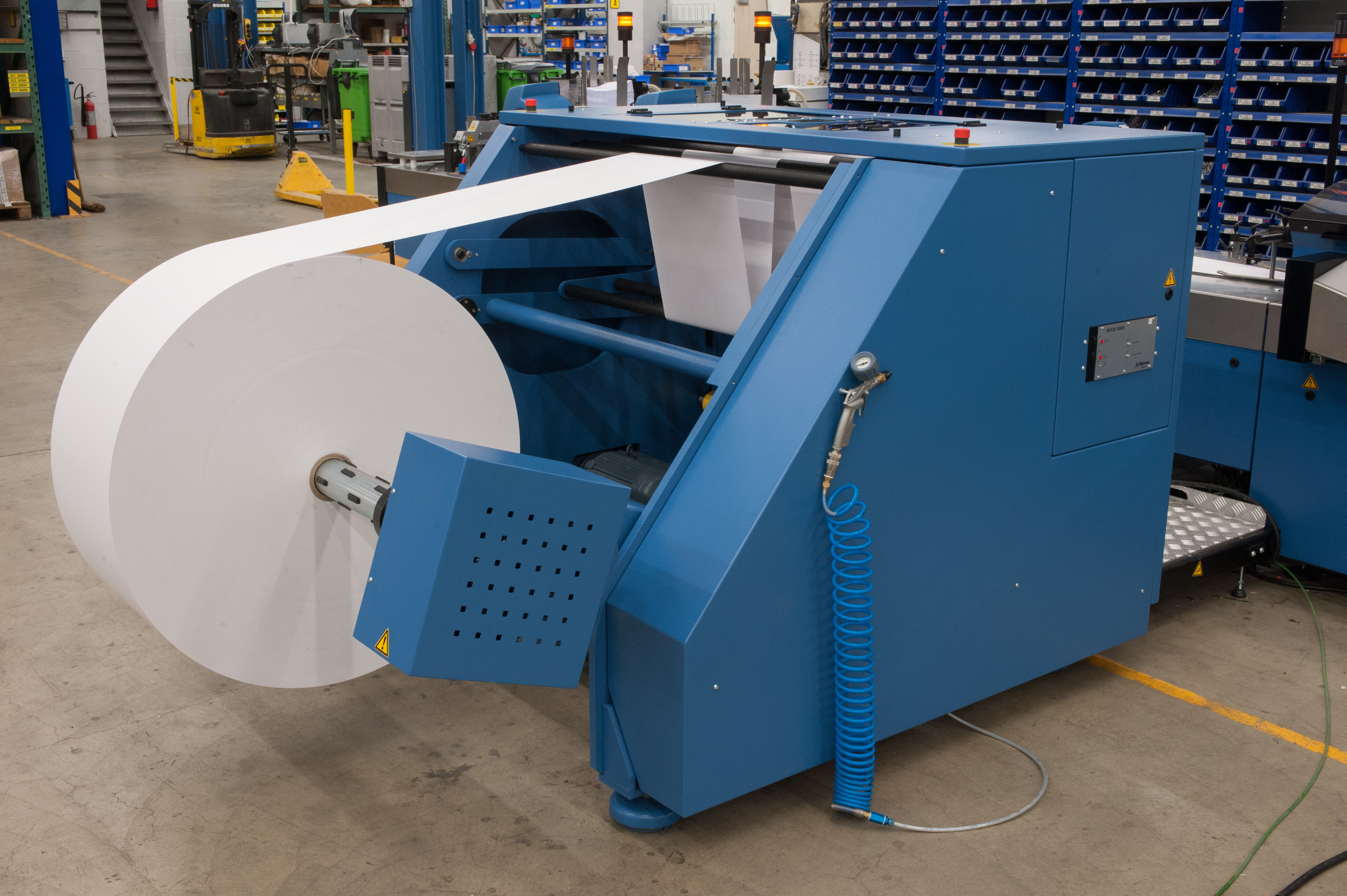 Buhrs 5000 XL unwinder
From now on all Buhrs Paper wrappers can be equipped with the Buhrs5000 XL unwinder. The need for more paper wrapping has made us decide to make the Buhrs5000 unwinder available on all our paper wrapping systems.
The Buhrs5000 XL unwinder has the following advantages:
Reel diameter upto 50 inch
Ability to run Paper and Poly
Integrated perforation assembly for easy tear open perforation.
The Buhrs5000 XL unwinder also respects the latest safety and ergonomic market requirements
New Website
A lot is happening at Buhrs. The activities are becoming more extensive. The knowledge of packaging - gained in Print & Mail - is applied to Food & Beverage and Pharma & Medical packaging solutions. Last but not least, a new website with the most recent information about Buhrs! The new website consists of seperate menus, all dedicated to their own business area. Special thanks to Danto and PZC for the design and content.
Buhrs on Dutch television
Buhrs was featured on the Dutch television for a business broadcast RTL-Z named: 'How it's done'. This programme gives a good picture of the Buhrs facilities and shows how Buhrs together with customers develops and produces packaging solutions.
Good times are back
Good times are back at Buhrs. "We have an order backlog till mid-2020.", says managing director Dick Verheij. The activities of Roboxis Packaging, the producer of Palsys palletisers, has been relocated to Zaandam. These systems have been further developed and enhanced with our packaging experience. This has resulted in the first system in production at a large brewery in the Netherlands.
Automatic depalletizing
Buhrs DPS is a revolutionary system for the automatic depalletizing of pallets with flat packaging. The starting points for the development of this new system were high net output, maximum automation, reduction of human touch points and the efficient separation of the various discharge flows to minimize the transport movements around the machine.