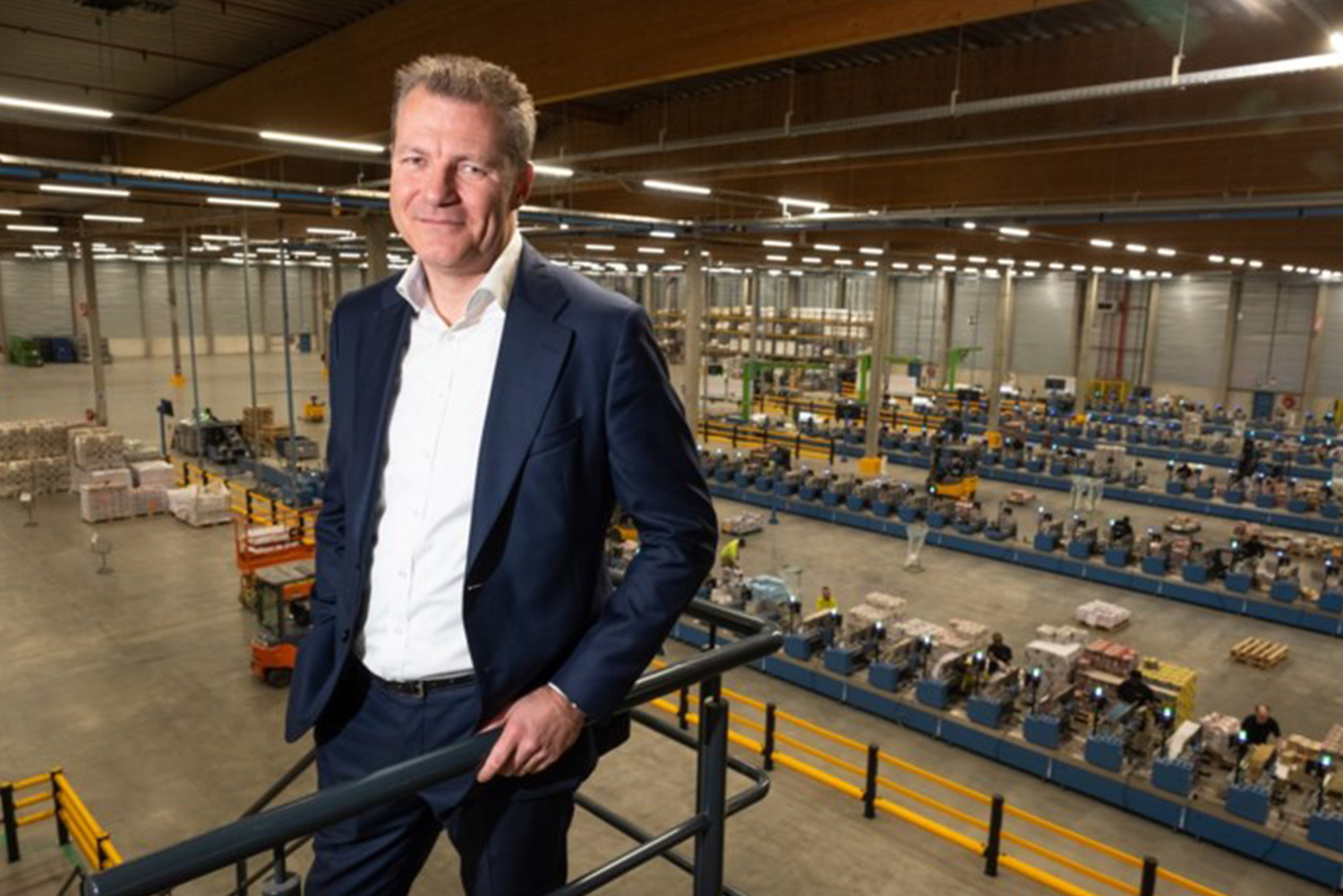 Image caption: Raf Lambrix, CEO in the new central logistics hub of 16,000 square meters in Bornem where Buhrs has installed five new packaging lines.
IMAGE made by Photographer David Legreve
BD myShopi, market leader in door-to-door communication in Belgium, recently moved into a new warehouse in Bornem. In this new central logistics hub of 16,000 square meters Buhrs has installed five new packaging lines. Every week these Buhrs 6000 systems pack advertising brochures and leaflets, which are distributed over 4.5 million mailboxes throughout Belgium.
'As a top Belgian company, formerly known as the Belgian Distribution Service, we are extremely proud of the new step we have taken in the evolution of our business. We invested 10 million euros in brand new Buhrs machines which support our current as well as future business,' said CEO Raf Lambrix.
Supply Chain Manager Lars Peterse was responsible for the selection, purchase and installation of the new Buhrs packaging machinery. Peterse: 'Our five fully automated packaging lines each have thirty feeders. This enables us to compile fully addressed and specific advertisement packages. The new machines can wrap the retail brochures in both paper or foil. This capability allows us to anticipate on the tightening of the environmental guidelines for packaging. Here in Belgium we see a clear trend towards the preference for packaging in paper wrap.'
Lars Peterse continues: 'We can compile the folder packages completely selectively. Each printed advertising packaging may contain a different content, composed at the request of the recipient. We are currently unique in this. Even within Europe there are not many folder distribution companies that can do this. With this innovative packaging technology, Buhrs belongs to the worldwide top. Some of the reasons BD myShopi has chosen for systems out of Zaandam are the good, reliable name and knowledge that Buhrs has. Buhrs provided us with intensive technical support throughout the process, trained our operators and, above all, contributed to the highest possible return on our investment.'
Raf Lambrix: 'Now that our Buhrs packaging lines are running at full speed, we can focus on innovations within BD myShopi. Think of our new pillar "smart logistics". Those activities focus on green city logistics. For this we have six depots located at strategic locations on the outskirts of the city. Where goods from different carriers are collected and then delivered to the city center. In this way, a maximum of CO2 emissions is avoided. We are committed to the evolution of our business. Our investments are the real proof of this. As many as 88 percent of Belgians read paper leaflets that arrive in the mailbox every week. They are encouraged by this advertisement to go to the store. This also remains a very important medium in digital times. With our new Buhrs machine park for packaging advertising printed matter, we can continue to meet this need efficiently. We are proud of it.'
About Buhrs
Buhrs was establised 112 years ago. What started out as a repair shipyard and local blacksmith, has turned in to an international organisation specialized in developing and manufacturing of packaging technology. The head office as well as the manufacturing sites are still located in Zaandam. Besides that Buhrs has also offices in Japan and Germany. Service for all Buhrs systems is covered by Buhrs Services. From the Netherlands Buhrs focuses via three business areas on the international markets for Print & Mail, Food & Beverage, and Pharma & Medical. Being a specialist for packaging has brought Buhrs a lot of relevant knowledge and experience.
MORE INFORMATION
---
Buhrs Packaging Solutions B.V.
Koos Buis  |  T +31 6 51 11 47 34  |  This email address is being protected from spambots. You need JavaScript enabled to view it.