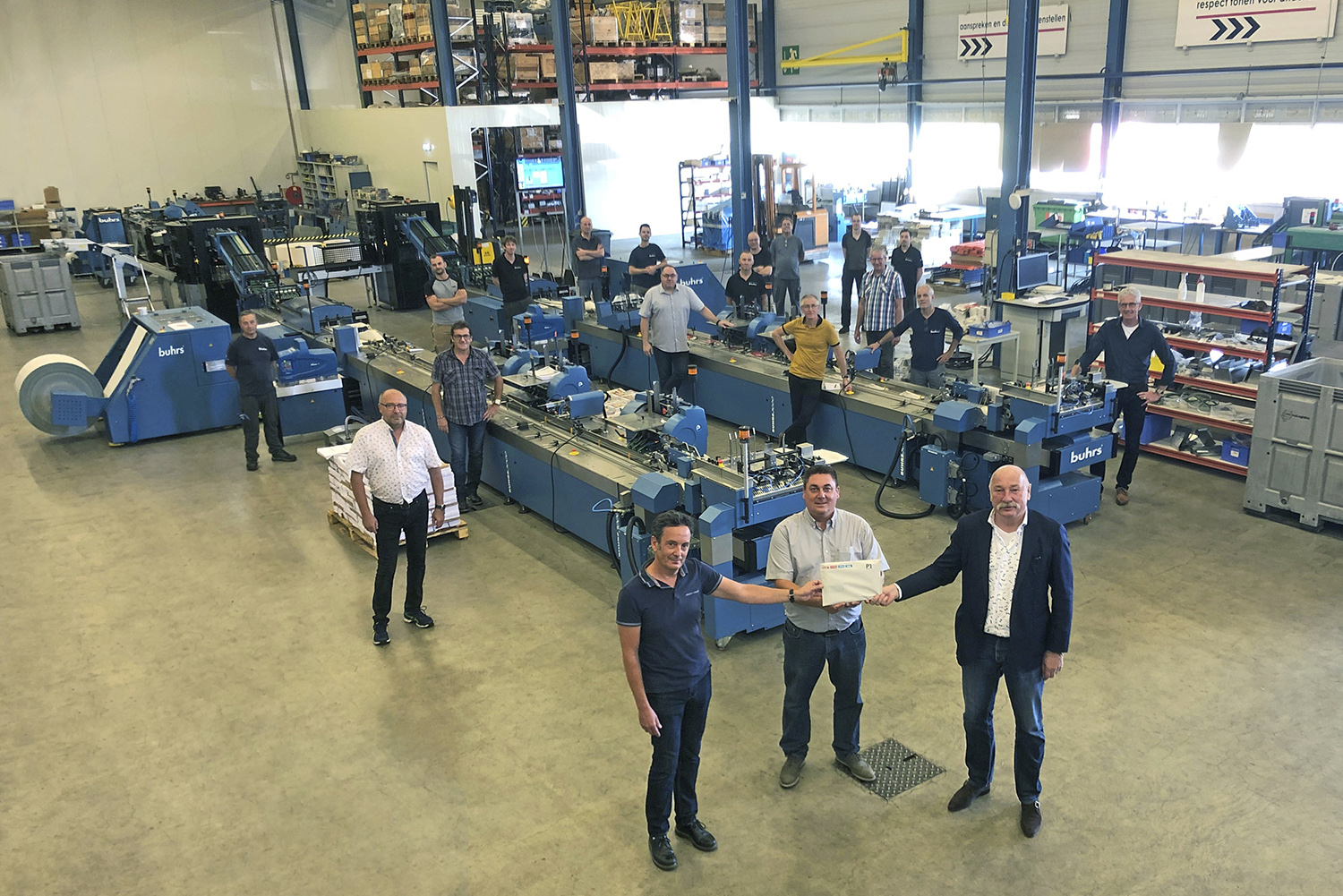 Image caption: (from left to right) Bruno Bertrand (Ouest-France), Bruno Collos (BC2S) en Dick Verheij (Buhrs)
IMAGE made by Photographer Giuseppe Toppers | Danto
Ouest-France, the largest regional newspaper publisher in France, has purchased two new packaging lines from Buhrs in Zaandam. These Buhrs 3000 systems are used for packaging newspapers in paper wraps.
"With this investment, Ouest-France is the first newspaper company to package its products in paper and not foil for shipping," says Buhrs managing director Dick Verheij. "This complies with French legislation that has banned the use of foil, other than bio foil. Ouest-France is one of the first companies in France to follow this new environmental measure and thus send a signal to other shippers."
The new packaging systems have been fully produced in the Buhrs factory in Zaandam and are supplied and installed by BC2S, Buhrs' French agent. In addition to packaging newspapers, the Buhrs 3000 systems also offer the option of including printed matter. The packaging capacity is 15,000 newspapers per hour. The system is also easy to set up for packaging other print productions.
About Buhrs
Buhrs celebrates its 112th anniversary this year. What once started in Zaandam as a workshop where ships were repaired and as a forge for the neighborhood, has grown into an international organization, specialized in the development and production of packaging solutions. Buhrs' head office and production company are still located in Zaandam. In addition, Buhrs is also located in Japan and in Germany. The service to all Buhrs systems worldwide is performed by Buhrs Services & Parts. From the Netherlands, Buhrs focuses with two pillars on international markets for Print & Mail and Food & Beverage. As a packaging specialist, Buhrs has a great deal of knowledge and experience. That is the foundation in the custom solutions that Buhrs develops to produce systems for customers in the aforementioned market segments that make production processes even more efficient.
MORE INFORMATION
---
Buhrs Packaging Solutions B.V.
Koos Buis  |  T +31 6 51 11 47 34  |  This email address is being protected from spambots. You need JavaScript enabled to view it.